If you want to keep up to date with the latest news and updates about shoe fashion, please subscribe to our newsletter at Your Next Shoes. We would like to inform you that this article may contain affiliate links. For more information on this topic, please visit our disclosure page.
Whenever Miley Cyrus posts a photo that seems provocative or scandalous, it's not unusual because that's just what we expect from her these days. Even during her recent promotional tour in London for her new album, she continued to show off her body. However, on her way to a TV appearance on Tuesday, she wore a relatively modest outfit, which is still not saying much since she recently wore sheer leggings with no underwear and a crop top.
During her latest TV appearance, Miley Cyrus chose to turn heads with a daring fashion choice. She wore sheer leggings on one leg and paired them with a crop top, leaving many of us wondering what inspired her outfit. It appeared as though she couldn't decide between pants or leggings, so she decided to wear both. Have a look at her unique ensemble below.
On September 10, 2013, Miley Cyrus made a TV appearance in London wearing a unique bottom-wear that combined pants and leggings. Despite the unconventional style, she pulled it off with ease. Her Jean Paul Gauthier bottoms were a perfect match for her Celine ankle-strap sandals, which looked great with both the wide-leg pant side and the tight, sheer legging side. Interestingly, Katy Perry was spotted wearing the same shoes earlier this month at the MTV VMA.
Miley Cyrus showed off her pretty feet sporting a pair of fashionable Celine shoes.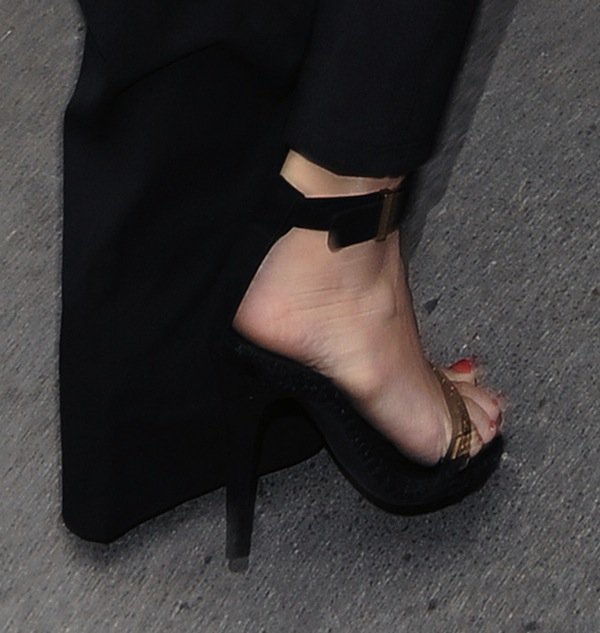 Miley Cyrus was spotted in a distinctively unusual attire that combined half-pant and half-legging, complemented by Celine ankle-strap sandals. Unfortunately, the specific Celine design is not currently available for purchase online. It's a breath of fresh air to witness Miley adopting a more conservative fashion statement, suggesting that we might witness her unique fashion choices rather than just revealing outfits.